Homeowners and DIYers in Fulshear, Texas, now have a local retail hardware store offering service, convenience and quality products, thanks to entrepreneurs Michael and Allison Hopfe.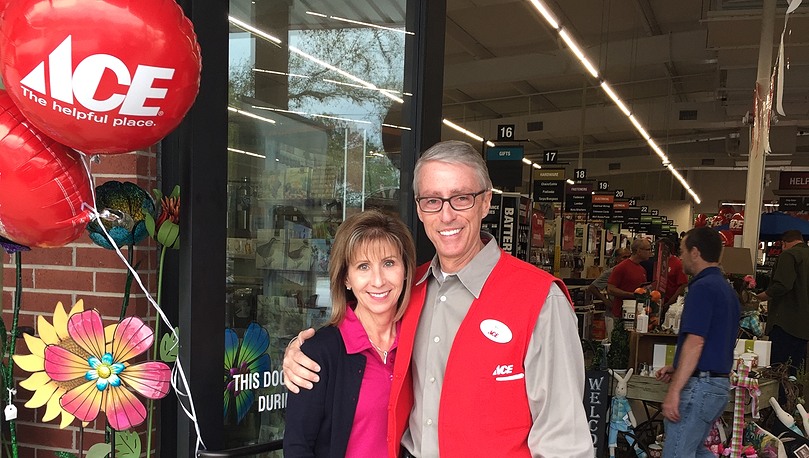 With a $450,000 loan from NCB, the couple opened Fulshear ACE Hardware in November 2016. It's the Hopfes' first and only ACE hardware store.
The Hopfes are leasing the store's building, which sits on Main Street, a downtown area with retail businesses and restaurants. Fulshear, pop. 8,000, is a rapidly growing town located 30 miles west of Houston. Living in Fulshear since 2010, the couple have watched Houston's suburbs inch steadily toward their community. They saw opportunity, since the town had no retail hardware store.
"I always wanted to own my own business, but I had never owned a retail business or hardware store," says Michael.
He did, however, have an MBA, a background in marketing and product management, and extensive experience with business plans. Allison had been an assistant manager at a Hallmark store. Both are Texas natives.
Attracted to strong brands, the Hopfes looked into ACE Hardware. "We liked what the brand stood for and its place in the industry," he says. "The strong personal service is what sets ACE apart. It was a good fit for what we wanted to do."
They contacted ACE Hardware, which has worked with NCB to finance and open many of the brand's stores. Together, the two organizations helped the Hopfes get the financing and training they needed. NCB worked with the Small Business Administration on behalf of the Hopfes.
"In the same way we provide personalized customer service, we got that same level of service from NCB," Michael says. "That makes all the difference in the world. Having someone we could reach out to through the financing process made it so much easier for us."
Today, the Hopfes' independently owned and operated ACE Fulshear employs 18 people, spans 10,000 square feet and stocks 17,000 items, from hardware, lawn and garden products to paint and home décor. The store has generated more customer transactions and 50-70 percent higher revenues than originally expected.
"It was a pleasure working with the Hopfes because they are very focused, goal-oriented individuals," says Joann Haines, NCB vice president. "Mike's marketing background was valuable in setting the stage months in advance with the community to let them know about their future ACE store. The SBA loan program, with NCB in the Preferred Lender role, was a perfect paring to not only be able to offer the financing needed by these first-time store owners but to put them in a position to bring the much-needed hardware store to the Fulshear community."