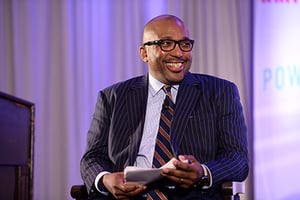 Arlington, VA (March 10, 2020) – National Cooperative Bank (NCB), a leading financial institution dedicated to providing banking solutions to cooperatives, their members and socially responsible organizations nationwide, is pleased to announce that John Holdsclaw IV, Executive Vice President, Strategic Initiatives has been named Chair of the Board of Directors of the Coalition of Community Development Financial Institutions (CDFI Coalition). Mr. Holdsclaw has served as vice chair for the past two years and will serve a two-year term as Chairman.

The CDFI Coalition Board is comprised of 18 organizations representing community development loan funds, community development banks, community development credit unions, microenterprise lenders, community development corporations, community development venture capital funds and intermediaries. As Board Chair, Mr. Holdsclaw will drive the policy agenda for CDFIs forward and help the CDFI Coalition coordinate industry-wide initiatives to increase the availability of capital, credit and financial services to low-income communities across the nation.

"The Coalition is the unified voice for CDFIs nationwide and we are very fortunate to have John as our board chair," stated Bob Rapoza spokesperson for the Coalition and Founder and President of Rapoza Associates. "His strong background in advocacy and commitment to initiatives serving low-income communities nationwide will be a huge benefit in advancing the community development finance policy agenda and our mission to ensure fair access to financial resources for underserved and underbanked communities."

In addition to the CDFI Coalition, Mr. Holdsclaw currently serves on the Board of Directors of the Self Help Venture Fund, Carolina Small Business Development Fund, and the Charleston Citywide Local Development Corp, Board of Advisors for the Stonier Graduate School of Banking and Board of Trustees of Global Communities.

ABOUT CDFI COALITION
Formed in 1992 as an ad-hoc policy development and advocacy initiative, the Coalition of Community Development Financial Institutions (CDFI Coalition) is the unified national voice of community development financial institutions. Through its member organizations, the Coalition represents CDFIs working in all 50 states and the District of Columbia. The mission of the Coalition is to encourage fair access to financial resources for America's underserved people and communities.