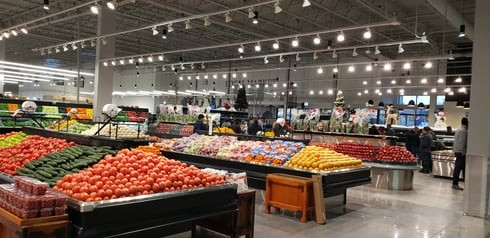 Arlington, VA (December 13, 2019) National Cooperative Bank (NCB), a leading financial institution dedicated to providing banking solutions to cooperatives and socially responsible institutions nationwide, is pleased to announce the grand opening of Local Market, a new 62,000 square foot grocery store in the Jeffrey Plaza Shopping Center located in the South Shore neighborhood of Chicago.

NCB provided a $10.4 million construction loan, part of an overall $25 million project for the acquisition of the property and the renovation of the shopping center and grocery anchor tenant Local Market. The new store marks the end of a six year period without a grocery store for the local community.

NCB worked with the Chicago Development Fund (CDF), a certified Community Development Entity (CDE) for the City of Chicago on the transaction.

Local Market offers affordable fresh produce, a deli counter, ready-to–eat meals, European- style bakery, a wide selection of meats and seafood and a wine bar.

The store created 180+ local jobs for the community.

"For over 40 years National Cooperative Bank has served the financing needs of independent grocery retailers, bringing healthy food to underserved populations", stated Brian Misenheimer, Senior Vice President at NCB. "Being a part of this transaction is a perfect example of our mission and commitment to community. We are very excited for the opening of Local Market and the impact it will have in the local area."