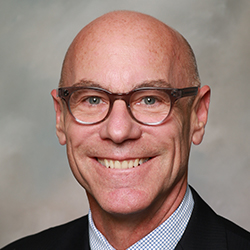 Arlington, VA (July 20, 2022) — With a shared mission and vision, Patrick Jury will lead NCB's Board of Directors with a focus on being a champion for co-ops and economic development and living NCB's mission of helping under-resourced communities thrive.
Mr. Jury, currently President of Member Enterprise, a Credit Union Service Organization owned by Local Government Federal Credit Union and Civic Federal Credit Union, was first introduced to NCB when he was the CEO of the Iowa Credit Union League (ICUL).
Under his leadership, Jury worked with the Iowa credit union league members and chose NCB as their banking partner to provide correspondent banking services. NCB was selected because as a cooperative bank, it understood the intricacies of member-owned organizations like credit unions.
"The shared values of credit unions and NCB made it a perfect fit for our credit union members at a time when they needed competitive correspondent banking services," stated Jury. "NCB and credit unions are mission-driven financial institutions with similar cultures and vision. I am honored to have served on NCB's board over the last six years and as its current chairman."
As chairman, Mr. Jury will focus on leading an energetic, passionate board of directors that consists of individuals from various sectors of cooperatives and community development organizations across the United States, including housing, grocery, small business, healthcare, and credit unions. Serving with Jury from the Credit Union Movement includes Gigi Hyland, Executive Director of the National Credit Union Foundation. Jury will also be a steward of NCB's mission and help Mr. Fannon in his new role as NCB CEO.
National Cooperative Bank was chartered in 1978 by an act of Congress, and later privatized in 1981 as a cooperative to provide financial services to housing and commercial cooperatives across the United States. Credit unions, as cooperatives, remain a primary sector for the Bank. So much so, that the Bank has a growing portfolio of credit unions who call the Bank its main provider of wholesale depository and correspondent banking services.
All credit unions, leagues, and CUSOs can be customers of the Bank and benefit from its products and services.
"Co-op Principle 6 – Cooperation Among Cooperatives is critical for communities and co-op organizations to be successful," stated Jury. "NCB and credit unions, working together can have a greater impact nationwide. I look forward to the year ahead living our aligned mission."
"We are proud to have Pat serve as the Board Chairman for NCB," stated Mr. Fannon. "His credit union experience and knowledge of NCB will be instrumental in helping us to stay abreast of the needs of credit unions and the product offerings we can provide to best serve their needs."