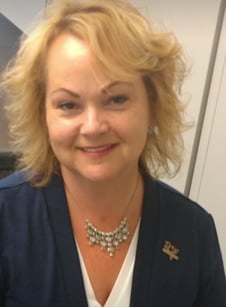 Arlington, VA (September 16, 2019) –RCP Management Employee and The Arc, Ocean County Chapter volunteer Mariaellen Varelis will join dozens of other hard-working volunteers on an all-expense-paid cruise courtesy of National Cooperative Bank and Cabot Creamery Co-operative. Mariaellen will be recognized as a 2019 Community Celebrity by Cabot, the New England and New York farm-family owned dairy co-operative, as someone who makes a significant difference her community.

"The Cabot farmers have a different perspective on what defines a true celebrity," says Cabot CEO Ed Townley. "For them, the kind, giving souls who make a significant difference in their communities each and every day are the real celebrities. That's why, in 2010, Cabot created the Community Celebrity Cruise; to honor the achievements and contributions of those hard-working volunteers, and to encourage more people and organizations to join us in applauding and recognizing their efforts."

"My friend introduced me to this organization, and after spending one day with all of the other volunteers and the people we were helping, I knew I found something that gave me great joy", said Mariaellen. "I am truly honored to be named a 2019 Cabot Community Celebrity and look forward to being a part of what is sure to be a remarkable group of volunteers who strive to make their communities better for everyone."

In addition to her commitment on RCP Management's charity committee, Hands of Hope, Mariaellen is an active chapter volunteer at The Arc, Ocean County Chapter. At The Arc, Mariaellen typically can be found working with the team for the annual Step Up for The Arc Walk-a-thon. She also likes to assist in the recreation activities that The Arc holds in the community, including miniature golf, trips to the Camden Aquarium and ceramic classes.

The Arc (Association Representing Citizens with special needs) is an organization that provides supports and services to individuals with developmental and mental disabilities. The Arc offers the opportunity for them to live, work and play in the community as citizens. The programs and events The Arc prepares allows the participants the opportunity to be introduced to people with similar interests and challenges and get out of the house and enjoy life and the world around them. The Arc also offers an employment center to teach the participants the logistics of a work day, arriving on time, learning a skill, creating relationships with teammates and earning a paycheck. When the participant is successful at the tasks and are ready to move on, they are teamed up with a job coach who guides them in securing a job within the community.

"National Cooperative Bank is honored to recognize Mariaellen for her dedication and commitment to the community", stated Mary Alex Blanton, Senior Vice President at National Cooperative Bank. "As a mission driven organization, we are proud to highlight those that truly go above and beyond in serving their local community. We applaud Mariaellen for her contributions both within RCP Management and at The Arc."

The 2019 Community Celebrity Cruise sets sail from Boston on September 29, 2019, making stops in Portland, Bar Harbor, St. John and Halifax. This marks the seventh Community Celebrity Cruise; more than 200 volunteers have been honored thus far for making a positive impact on their communities. For more information, cabotcelebritycruise.com.

About Cabot Creamery Co-operative
In 2019, Cabot Creamery Co-operative celebrates a century of continuous operation in Vermont, and makes a full line of cheeses, Greek yogurt, sour cream, cottage cheese and butter. Widely known as makers of "The World's Best Cheddar," in 2012 Cabot became the first dairy co-op and cheese maker in the world to become a certified B Corps. Cabot is owned by the 800 dairy farm families of Agri-Mark, with farms located throughout New England and upstate New York.