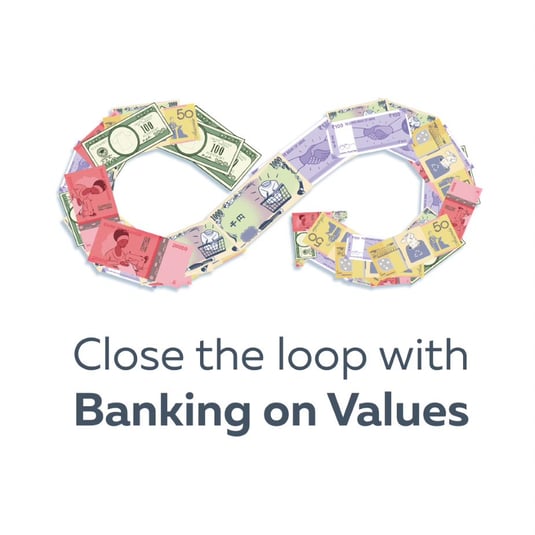 Arlington, VA (November 03, 2021) —National Cooperative Bank (NCB), a leading financial institution dedicated to providing banking solutions to cooperatives, their members, and socially responsible organizations nationwide and a member of the Global Alliance for Banking on Values, is proud to celebrate Banking on Values Day.
On the eve of the UN Conference on Climate Change in Glasgow (COP26), the Global Alliance for Banking on Values (GABV) is calling on the financial sector as a whole to act faster, go further, and be more coherent against climate change. On November 3rd, values-based banks celebrate the 8th edition of international #BankingOnValues Day to advocate for an ambitious approach to climate change.
National Cooperative Bank has been committed to the advancement of renewable energy since 2008, focusing on financing projects with creditworthy off-takers, such as utilities, municipalities, and established commercial businesses. Having financed $582 million in solar projects, NCB is dedicated to funding innovative programs dedicated to solar energy installation nationwide.
A better response to Climate Change

"Mobilize finance" is one of the four objectives of the UN Climate Change Conference taking place in Glasgow. It aims to raise more than 100 billion dollars in "climate finance" per year to decelerate global warming.

As a movement of frontrunners in sustainable finance, many values-based banks are already tackling climate change through a comprehensive set of measures:
Avoid harmful projects and activities such as fossil fuels and other greenhouse gas-intensive industries.
Enabling innovative projects and activities that help mitigate climate change or even sequester carbon.
Sensitizing their clients and helping them transform or adapt to climate change by providing capital, finance, know-how, and resources
Advocating for changing the framework conditions to better reflect the true price of climate change and send the right signals to markets.
Establishing transparency by measuring and publishing greenhouse gas emissions.
Committing to reducing their greenhouse gas emissions in line with the Paris Agreement or even faster.
The GABV calls regulators and policymakers in the mainstream financial sector to follow its lead in the transition to a low-carbon economy. To inspire this needed structural change, the GABV has created the www.bankingonvaluesday.com site with some examples of transformative banking for a healthy climate, a fair economy, and an inclusive society.
For more information, please visit: www.bankingonvaluesday.com
About National Cooperative Bank:
National Cooperative Bank is dedicated to strengthening communities nationwide through the delivery of banking and financial services, complemented by a special focus on cooperative expansion and economic development. NCB provides financial products and services for the nation's cooperatives, their members, and socially responsible organizations. Headquartered in Washington, DC, the Bank has offices in Alaska, California, New York, Ohio and Virginia. To learn more, visit www.ncb.coop, National Cooperative Bank on Facebook and Instagram, or on Twitter @natlcoopbank.
About the GABV:
The Global Alliance for Banking on Values (GABV) is a network of independent banks using finance to deliver sustainable economic, social, and environmental development. The GABV comprises 67 financial institutions and operates in 40 countries across Asia, Africa, Australia, Latin America, North America, and Europe. Collectively they serve more than 60 million customers and hold over $210 billion of combined assets under management. Learn more at gabv.org