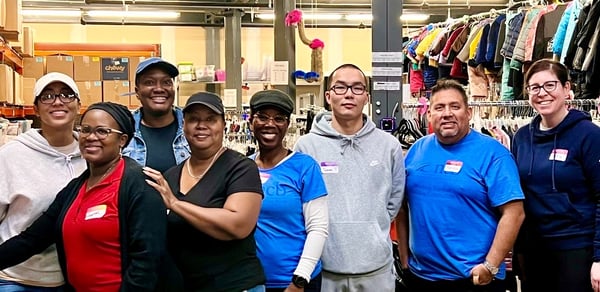 Arlington, VA (December 16, 2022) — National Cooperative Bank (NCB), a leading financial institution dedicated to providing banking solutions to cooperatives and socially responsible organizations nationwide, recently held several volunteer days in Virginia and Ohio, where employees gathered to give back to the local community this holiday season.
Employees participated in activities that catered to the different needs of the community through organizations such as:
Be The Good Project: NCB employees purchased and packed 125 holiday food bags that will go to families facing food insecurity in the Washington D.C. area, with food generously ordered and delivered by Fredericksburg Food Cooperative.
"It was such a joy to be included in this awesome example of NCB's generosity. You make such a positive and real difference for co-ops and for the communities you serve. Your efforts to deliver co-op food to those in need is so important at this time of growing food insecurity," stated Richard Larochelle, board member and founding member of Fredericksburg Food Co-op.
Comfort Cases: NCB employees packed backpacks filled with personal care and comfort items for children entering the foster care system.
Women Giving Back: NCB employees sorted clothes that will be provided at no cost to women and children in need.
Food & Friends: NCB employees organized and packed food to be delivered to people facing life-challenging illnesses in the DC area.
Hillsboro High School Concession Stand: NCB staff oversaw the concession stand during one of the Hillsboro boys' reserve and varsity basketball games for the local Athletic Boosters.
Highland County Humane Society: NCB staff assisted with cleaning the cat house, and cat quarantine house, cleaned the dog kennels, washed bowls, did laundry, played with animals, and made peanut butter activity plates for all of the dogs.
Because He Lives Food Pantry: NCB volunteers restocked shelves, filled grocery carts with food, transported the full grocery carts outside, and loaded the food items into the vehicles for clients.
Area 937 Community Outreach, Inc.: NCB staff painted the greeting area, hallway, waiting room, and offices. By finishing the painting in these areas, Area 937 is able to hold meetings in the offices as well as meet with clients in a private area to help with their needs and process their paperwork.
Hillsboro City Schools Power Packs: Each Friday during the school year, Freestore Foodbank sends packs of food, known as Power Packs, home with students at Hillsboro City Schools to ensure they have something to eat on weekends.
Each Power Pack contains over a dozen food items, which are shelf-stable and kid-friendly. NCB purchased food, and staff packed and delivered 100 extra bags to Hillsboro City Schools for kids to have additional food items over the holiday break.
"As a Bank chartered to support cooperative organizations nationwide, NCB's commitment to community is extensive", stated Casey Fannon, President & CEO. "Our employees embody the mission of our organization, and I am very happy to see so many volunteer their time in the community."