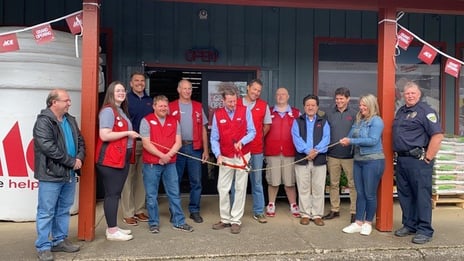 (Arlington, VA.) – August 29, 2021 – National Cooperative Bank (NCB), a leading financial institution dedicated to providing banking solutions to cooperatives and socially responsible organizations nationwide, provided a $300,000 SBA 7(a) loan to finance the renovation and opening of an Aumsville Ace Hardware store.
Bryan and Caren Crews are the proud owners of three Ace Hardware stores in Oregon — what Bryan calls the Santiam Canyon community of stores. "We are the only true hardware store operators east of Salem until you get to central Oregon."

Their third store at 210 Main Street in Aumsville opened in February 2021 during a major ice storm that caused much damage to the town. "A lot of people equate them to good-weather businesses, but your local hardware store is a key business to help overcome emergencies and natural disasters," Bryan says. "It turned out to be fortuitous timing that we could serve the community in that way."

Unlike their former two locations, the Aumsville project involved a three-month, ground-up rebuild of an empty 10,156 square foot commercial building into what is now an Ace Hardware with 8,325 square feet of retail space. To help offset the projected $831,000 start-up cost, the Crews turned to National Cooperative Bank for the second time, having partnered with NCB on refinancing the first hardware store in 2013.

Because Ace is a co-op, it was important for Bryan to work with a bank that is also a co-op. "I understand that business model, and likewise NCB promotes, supports, and understands the mission of a cooperative and how valuable these enterprises are."

Sylvia Bettencourt, NCB Vice President, and West Coast Business Development Officer agrees: "We pride ourselves on providing financing to ACE retailers and understanding the Ace model."

The Crews also enjoy seeing how that creation has impacted their community, with convenience being an important component of that—Aumsville Ace serves hundreds and potentially thousands of people that didn't otherwise have a local option. "We are the anchor store of the whole community in this little town, which is undergoing a nice revitalization. The city administrator was very pro Ace and bent over backwards to make it a reality."

The store has also employed ten residents. "Ace has a reputation for having the answers but guess what: Every Ace pulls these people out of their local community, so they are everywhere. There are people willing to help and to serve in every community. Ace is just one awesome way that is happening."

Should financing be required, Bryan sees NCB as the ideal partner. "I interfaced with many other banks and none were as receptive and understanding and willing to work with an Ace Hardware purchase or start-up as NCB. The people there were and continue to be very easy to work with and I would definitely work with them again if the opportunity arose."