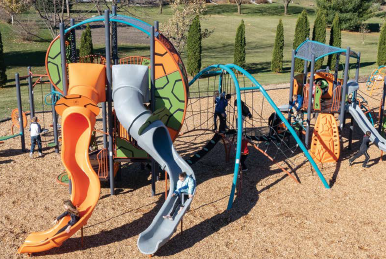 Hillsboro, OH – (April 13, 2022) – National Cooperative Bank (NCB), a leading financial institution that provides banking products and services to Southern Ohio and the nation's cooperatives, their members, and other socially responsible organizations, recently contributed $33,000 to two Ohio-based organizations.
The two organizations which are Ohio Capital Finance Corp and Highland County Historical Society, are committed to serving low- and moderate-income communities as well as providing support for local economic development.
National Cooperative Bank is proud to support the following organizations:

Fenner Village Apartments, Hillsboro, Ohio:
NCB awarded $25,000 to Fenner Village Apartments, through Ohio Capital Finance Corp, a Community Development Financial Institution (CDFI) which provides affordable housing, to construct a new playground on the property. NCB also plans to contribute to and host community service events at Fenner Ridge once the project is complete. This may include social activities, financial education, and playground maintenance.
C. S. Bell Mural and Trail, Hillsboro, Ohio:
NCB awarded $8,000 to the Highland County Historical Society for the painting of a mural on the side of NCB's Hillsboro office. The mural, designed by Pamela Kellough, serves as a tourist economic development project and communicates the significance of C. S. Bell, the largest manufacturer of Crystal Metal iron bells. Organized by Tim Koehl, the project showcases the transition that took place in homes throughout North and South America with C. S. Bell's mechanized iron grinders that replaced stone grinding.

National Cooperative Bank is pleased to support these organizations' initiatives to enhance their local community and promote economic development.