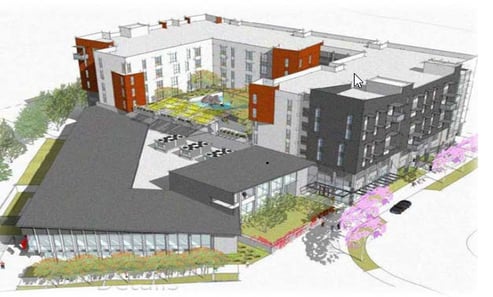 Arlington, VA (November 21, 2022) — National Cooperative Bank (NCB), a leading financial institution dedicated to providing banking solutions to cooperatives and socially responsible institutions nationwide, recently provided four loans totaling $39.7 million to San Ysidro Health, Inc. for the development of a new healthcare facility located in National City, CA.
San Ysidro, a Federally Qualified Health Center will utilize the funding for the acquisition, construction, and build-out of a new ground-up multi-story 38,000 sq. ft. building. The building will house a Federally Qualified Healthcare Clinic, a PACE (Program of All-Inclusive Care for the Elderly) center, and a 311-space underground garage. The new center will replace an existing smaller and outdated clinic located within a 7-minute walk of the new site.
This new building will help San Ysidro to continue to serve as the medical provider for their patients, while integrating services to ensure that patients receive seamless and high-quality care. The new PACE program represents the fourth PACE program site opened by San Ysidro.

Since initiating operations in 1971, San Ysidro has successfully provided outpatient care to over 107,000 patients through its integrated network of 42 program sites including medical and dental clinics, behavioral health centers, HIV centers, Women, Infant, and Children ("WIC") nutrition centers, mobile medical units, school-based health centers, chiropractic services, pediatric developmental clinic, teen clinic, senior health center and Program of All-Inclusive Care for the Elderly ("PACE") Centers.
"Given San Ysidro and PACE's mission and commitment to providing quality healthcare-, NCB is proud to provide financing for the acquisition and development of the new center", stated Bob Montanari, Senior Vice President of National Cooperative Bank.