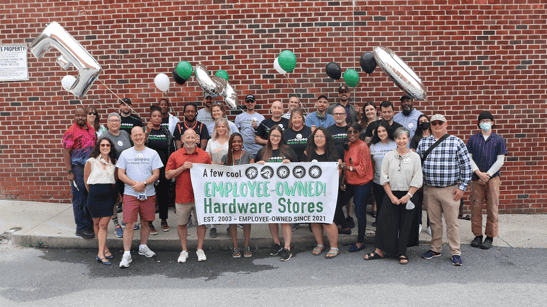 Arlington, VA (September 07, 2021) - National Cooperative Bank (NCB), a leading financial services company dedicated to providing banking products and services to cooperatives, their members and socially responsible organizations nationwide has recently closed a transaction with A Few Cool Hardware Stores ( AFCHS), the largest locally and privately owned hardware store chain to sell ownership of their 13 ACE Hardware stores to employees through an Employee Stock Ownership Plan (ESOP).
With 14 million employee-owners across 7,000 companies nationally, ESOPs offer employees a stake in a company through a stock allocation that accrues value over time, much like a 401(K) plan. The benefits of this transition from privately-owned to employee-owned include increased staff engagement in decision-making processes, personal wealth building, and an active investment in the success and health of the business.

AFCHS owners Gina Schaefer and Marc Friedman will transfer ownership of the organization over the next several years through the ESOP's trust under the name "The Cool Hardware Company".

"The ESOP model allows us to give back to the employees who have done so much for our company, while still aligning with the culture we're proud to have built over the last 20 years of business.", said Gina Schaefer.

"National Cooperative Bank has been a long- time financial partner with A Few Cool Hardware Stores since 2004", stated Mike Novak, Senior Vice President of NCB. "We are very proud to work with Gina and Marc on providing the financing for the conversion to employee-ownership."

Founded in 2003, A Few Cool Hardware Stores is projected to transfer 100% ownership to their 250+ employees through the ESOP trust over the next several years.

About National Cooperative Bank:
National Cooperative Bank is dedicated to strengthening communities nationwide through the delivery of banking and financial services, complemented by a special focus on cooperative expansion and economic development. NCB provides financial products and services for the nation's cooperatives, their members, and socially responsible organizations. Headquartered in Washington, DC, the Bank has offices in Alaska, California, New York, Ohio and Virginia. To learn more, visit www.ncb.coop, National Cooperative Bank on Facebook and Instagram, or on Twitter @natlcoopbank.