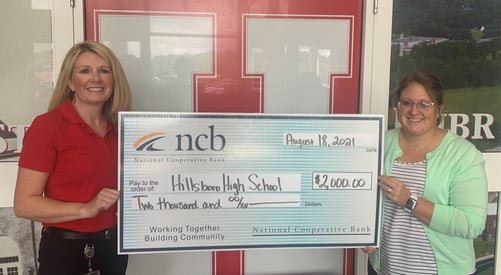 Hillsboro, OH – (August 24, 2021) – National Cooperative Bank (NCB), a leading financial institution which provides banking products and services to Southern Ohio and the nation's cooperatives, their members and other socially responsible organizations, has awarded Hillsboro High School a $2,000 technology grant for having the highest percentage of students complete the NCB Money Matters financial education program during the 2020-21 school year.

NCB's partnership with leading education technology company EverFi, Inc. has brought an interactive, web-based financial program to over 1,979 students since the program's inception in 2013. In the 2020-2021 academic year, students had over 573 hours of learning at the six local schools that participate in NCB's Money Matters Program.

"We all know that knowledge is power, but financial knowledge is a foundational building block of financial capability," stated Deb Jones, NCB Co-President, Ohio Region. "NCB is proud to invest in the community and partner with many of our local schools to empower so many students with the essential skills needed to make sound financial decisions."

NCB also awards a $1,000 scholarship to a graduating senior at each of the schools that participate in the program.

The course "taught me how to be more prepared when it comes to my future with money and debt," stated a local student.

Financial education is for everyone. NCB provides important financial education resources for adult learners also. These online courses are 3-10 minute modules that are self-guided, highly interactive and tablet and mobile enabled. They cover topics, such as: mortgages, credit scores, retirement and more and can be found on the Bank's website at: https://www.ncb.coop/personal-banking/financial-education.

About EverFi:
EVERFI is an international technology company driving social impact through education to address the most challenging issues affecting society ranging from financial wellness to mental health to workplace conduct and other critical topics. Founded in 2008, EVERFI's Impact-as-a-ServiceTM solution and digital educational content have reached more than 41 million learners globally. In 2020, the company was recognized as one of the World's Most Innovative Companies by Fast Company and was featured on Fortune Magazine's Impact 20 List. The company was also named to the 2021 GSV EdTech 150, a list of the most transformative growth companies in digital learning. Some of America's leading CEOs and venture capital firms are EVERFI investors including Amazon founder and CEO Jeff Bezos, Google Chairman Eric Schmidt, Twitter founder Evan Williams, as well as Advance, Rethink Education, Rethink Impact, The Rise Fund, and TPG Growth. To learn more about EVERFI and how you can #answerthecall please visit everfi.com or follow us on Facebook, Instagram, LinkedIn, or Twitter @EVERFI.