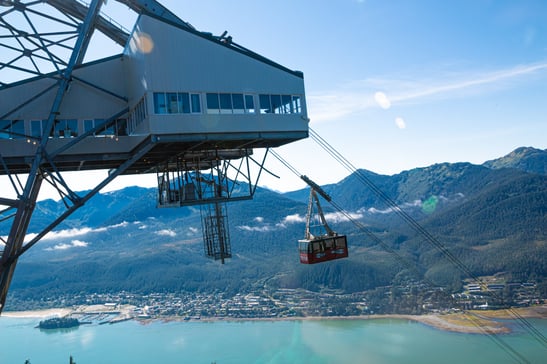 Arlington, VA (September 23, 2021) - National Cooperative Bank (NCB), a leading financial services company dedicated to providing banking products and services to cooperatives, their members, and socially responsible organizations nationwide, provided a $4 million loan to the Goldbelt Tramway in Juneau, Alaska, to begin a two-phase renovation and expansion project.
The Goldbelt Aerial Tramway is the city's main attraction, allowing visitors to take in the state's breathtaking scenery in comfort and style. Tourism has been growing in Alaska and was expecting to grow an additional six percent before the impact of COVID-19. A $4.0 million loan from NCB will allow for a two-phase renovation and expansion of the tramway that will increase capacity and revenue.

Goldbelt and NCB have a longstanding and positive partnership. "As an Alaska Native Corporation with 4,000 Alaskan shareholders in addition to being one of the largest employers in the region, they are the perfect client for NCB to work with," said Jesse Janssen, Vice President of Corporate Banking for NCB. "Pair that with the caliber and acumen of the executive team and the fact that the tram operation is a flagship for Juneau and its thousands of tourists that visit the region every year."

The tramway attracts 300,000 people each tour season. Goldbelt is dedicated to making it a desirable location for tourists and locals alike, and NCB's loan will allow for upgrades that will draw in an even bigger crowd and create a more comfortable, spacious, and rewarding experience. NCB is proud to help renovate this vital tourist attraction that will fuel the local economy and help preserve indigenous heritage.

"The Goldbelt Tram is grateful to NCB for their support of this renovation, stated Steven Sahlender, Goldbelt Vice President of the Alaska Group. "We're looking forward to elevating the Tram experience for visitors and locals alike. Our shareholders will be excited to see the art of many local, artists featured and persevered."
About National Cooperative Bank:
National Cooperative Bank is dedicated to strengthening communities nationwide through the delivery of banking and financial services, complemented by a special focus on cooperative expansion and economic development. NCB provides financial products and services for the nation's cooperatives, their members, and socially responsible organizations. Headquartered in Washington, DC, the Bank has offices in Alaska, California, New York, Ohio and Virginia. To learn more, visit www.ncb.coop, National Cooperative Bank on Facebook and Instagram, or on Twitter @natlcoopbank.