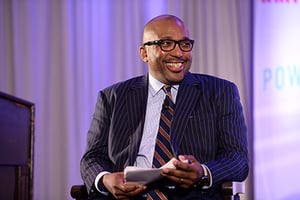 Arlington, VA (September 24, 2020) National Cooperative Bank (NCB), a leading financial institution dedicated to providing banking solutions to cooperatives and socially responsible institutions nationwide, announces that John Holdsclaw, Executive Vice President of Strategic Initiatives and Chair of the CDFI Coalition, will be the keynote speaker at the UK Society for Co-operative Studies Conference October 1-3, 2020.

The theme of this year's UKSCS conference is the Politics, Policies and Practices of Cooperative Movements.

Prior to the conference, Co-operative News interviewed John Holdsclaw to discuss CDFIs, cooperative development and the impact that COVID 19 had on NCB and cooperatives in the United States.
Below is a partial view of the interview. To view the entire article, please visit
https://www.thenews.coop/150393/sector/banking-and-insurance/interview-john-holdsclaw-of-the-us-national-cooperative-bank/

The conference programme points to tensions between the sometimes anarchic, grassroots nature of emerging co-ops and the scale of the big financial and retail co-ops. How does the NCB address such tensions?

Personally, I do not see similar tensions in the USA, but with concern for community being one of the seven co-operative principles, I do see emerging and larger co-ops bearing a similar responsibility towards sustainable development in their communities. In the USA, emerging co-ops are creating jobs, providing financial assistance and food security while the larger co-ops like REI Coop, Land O'Lakes, and Wakefern Food Corporation/Shoprite are also helping their communities through social responsibility while continuing to provide patronage to their member-owners. In addition, during these unprecedented times, we have worked with our strategic partner Capital Impact Partners, a national community development financial institution (CDFI) to provide co-op innovation grants for emerging food, worker, and housing co-operatives who are reaching new audiences and promoting co-operative development and expansion. This promotion will disrupt income inequality, steward community ownership, and create strong vibrant places of opportunity in their community.

Earlier this year you were made chair of the CDFI coalition. What plans does the organisation have and what would you like to achieve there?

It has indeed been an honour to become the board chair of the CDFI Coalition. For those who do not know, CDFIs are private-sector, financial intermediaries with community development as their primary mission. There are more than 1,100 CDFIs in the USA that provide financial services, loans, and investments; offering training and technical assistance services; and promoting development efforts that enable individuals and communities to effectively use credit and capital. For CDFIs, it is "about the mission, not the margin." CDFIs include community development banks, community development loan funds, community development credit unions, microenterprise funds, community development corporation-based lenders and investors, and community development venture funds. They all supply the tools enabling low-wealth individuals and their families to become self-sufficient stakeholders in their own future.

How have the NCB and CDFI been affected by the Covid-19 crisis?

Like most financial institutions in the USA and in the spirit of co-operation, we have worked with our customers on payment assistance programmes and hardship requests that provided them with much-needed help. Additionally, we have modified our branch operations. Prior to Covid-19, the Bank had long established a robust business continuity plan that we tested on a regular basis. With our existing information technology and communications infrastructure, the transition was seamless with Bank employees now working remotely. We do miss the in-person meetings with customers and community stakeholders, but we are taking every precaution for the health and safety of our staff and customers.