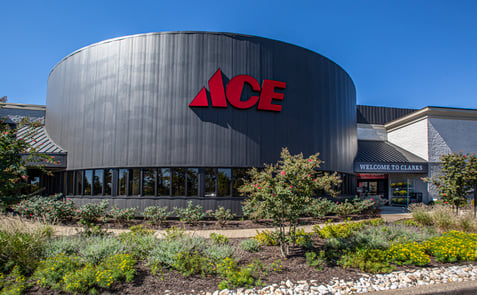 Arlington, VA (October 26, 2022) —National Cooperative Bank (NCB), a leading financial institution dedicated to providing banking solutions to cooperatives and socially responsible institutions nationwide, recently closed a $1.15 million construction loan for the opening of Clarks Ace Hardware in Ellicott City, Maryland.
Clarks Farm Supplies was opened in 1845 by John L. Clark and is among one of the oldest hardware stores in America to be owned and operated by the same family. Clarks Farm Supplies joined the Ace Buying Group in 2001, and seventh-generation Margaret Clark has been at the helm since 2017. Clark has since updated the trade name to Clarks Ace Hardware—Ellicott City in 2021 and formed Clarks Ace Hardware, a new Ace Hardware store in Columbia, MD.
National Cooperative Bank was referred to Clark at the recommendation of Gina Schaefer, who co-owns 12 Ace Hardware stores in the Baltimore-Washington, D.C. area. "I consider Gina a mentor, so her recommending NCB to me was a big deal. I met NCB Business Development Officer Dami Odetola through Gina and could tell he was a person of strong character, which matters to me and others in our industry."
NCB provided a $1,150,000 SBA 7A construction loan, the proceeds of which were used for inventory; fixtures, furniture, and equipment; leasehold improvements; working capital; and closing costs for the new 12,000 square foot store. "The history of the Ellicott City store was one of the reasons we took a look at financing the new business," Odetola says. "Ace Hardware is an institution in and of itself, but when you have one of the oldest and one of the largest stores in our own backyard, the longevity of that business in the family means a lot."
Read more details about Clarks ACE Hardware in NCB's latest story, here.