Taking a Family Business into the Next Generation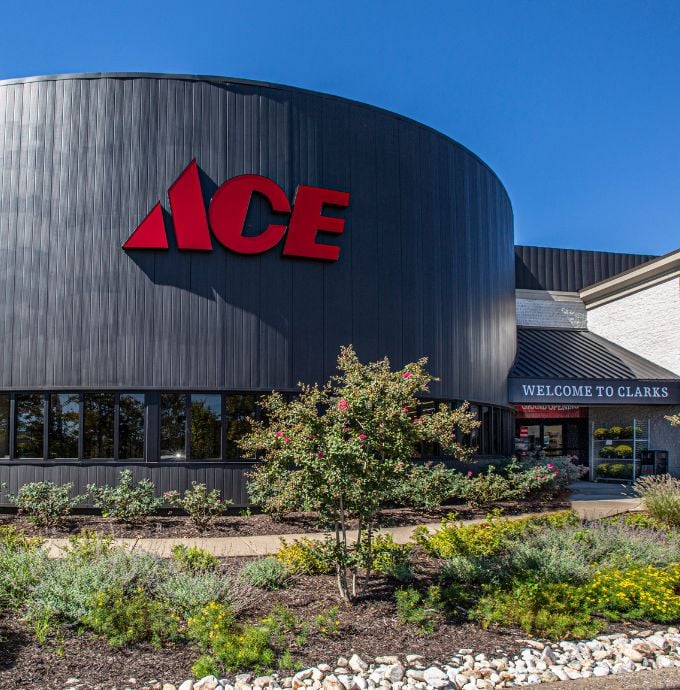 Not many retail stores can boast as many distinctions as Clarks Ace Hardware, in Ellicott City, Maryland. The circa 1845 business—opened by John L. Clark as Clarks Farm Supplies—is one of the oldest hardware stores in America to be owned and operated by the same family (albeit at a different location than the original, which flooded). Set in a sprawling 40,000-square-foot building with significant outdoor space, the store is also among the largest of its kind in the tri-state area. It joined the Ace Buying Group in 2001.

And as of 2017, seventh-generation Margaret Clark has been at the helm, purchasing the business from father Alton, who had taken over with his brother Edward after their father and mother died in a tragic car accident in 1972. Margaret is the first woman owner-operator of the business in its 176-year run.

"I started helping bag purchases and load customers' cars at eight and was on the payroll as a cashier by 12," Clark recalls. She continued to work in various capacities until joining the Marine Corps at age 20, serving as a journalist and broadcaster while stationed in Norfolk, Virginia, and at a major training base near Palm Springs, California.

That makes Clarks Ace Hardware a third-generation veteran-owned business—her grandfather and father were in the Army and her uncle was in the Marine Corps (plus descendants served before them).

"It was a calling for me," she says. "There were a lot of reasons why I joined but I always felt like I needed to do it, even as a young teenager." After returning to Maryland in 2011, she worked her way around different management areas of the hardware store, including handling inventory control, until she was able to finance the business purchase with an SBA-guaranteed term loan from a local bank. (She still leases the building and land from her parents.)
The NCB Connection
Having updated the trade name to Clarks Ace Hardware—Ellicott City, in 2021, Margaret also formed the same year A&J Clark LLC dba Clarks Ace Hardware—Columbia to develop and establish a new Ace Hardware store in Columbia, MD.
She then turned to National Cooperative Bank at the recommendation of Gina Schaefer, who is a co-owner of 13 Ace Hardware stores in the Baltimore-Washington, D.C. vicinity. "I consider Gina a mentor, so her recommending NCB to me was a big deal. I met NCB Business Development Officer Dami Odetola through Gina and could tell he was a person of strong character, which matters to me and others in our industry."
Odetola was equally impressed. "Margaret is a go-getter. As soon as you meet her you know she will succeed. What might be challenging for other people she takes in stride and makes it work. She gets things done and that is impressive."
NCB provided a $1,150,000 SBA 7A construction loan, the proceeds of which were used for inventory; fixtures, furniture, and equipment; leasehold improvements; working capital; and closing costs.
"The history of the Ellicott City store was one of the reasons why we took a look at financing the new business," Odetola says. "Ace Hardware is an institution in and of itself, but when you have one of the oldest and one of the largest stores in our own backyard, the longevity of that business in the family means a lot."
Although second stores are sometimes financed with a conventional term loan based on the strength of the existing one, Odetola says opening a new store is totally different from being part of an existing business. "We saw this as a learning opportunity for Margaret, and the SBA program is for the benefit of both borrower and lender."
Specifically, by being able to extend the term from seven to 10 years, the SBA 7A loan helps borrowers' cash flow by easing monthly payments. Plus, there is no prepayment penalty. And it enables banks to underwrite a startup business with minimum risk.
As a preferred lender, NCB is not required to get SBA approval for loans. But unlike the upfront payment under conventional SBA loans, a construction loan like this one involves piecemeal disbursement when benchmarks are met—and only after a rigorous review of the contractor's work by the SBA.
"For people who are used to getting one lump sum, the continual oversight can be understandably frustrating, so we walk borrowers through the process to ensure compliance," he says.
Clark says starting a business from the ground up with an SBA loan was a whole other level than her prior SBA business loan. "Every single thing is monitored along the way and contractors are front-loading their cash flow before getting reimbursed, so that was an adjustment. But now I know what to expect and would do it again. I just need a two-year break," she says, laughing, before quickly crediting Odetola with "having my back throughout the whole process and making sure I received answers to all my questions."

For his part, Odetola credits Clark with being a proactive partner in the transaction. "She always got back to me quickly, which you would think typical of a lot of businesses but is not. All other departments at NCB said she was helpful and responsive."
Banking on the Location

The new store is located 10 miles from Ellicott Ace, which will be a supply hub for all large delivery and assembly of customer orders for both operations.
Though close (about 25 minutes' drive in traffic), the two businesses serve different markets. Clark describes Columbia as "its own little self-contained city" that lacked a locally-owned hardware store of its own.
The high-traffic location was a key factor for Odetola—it shares the same street with Carpet One, Wegmans, and numerous restaurants, plus a brewery is opening next door. "She is in the right spot," he says.
Clark first set sights on Columbia about four years ago. " I asked a property agent friend of mine to let me know if specific sites in the area I was looking for became available." Sure enough, a spot became available in 2020 and she signed the lease in 2021 for 12,000 square feet of the 30,000+ square foot space (a restaurant is opening in the rest).
Approximately 10,000 square feet of the 12,000 square foot building is dedicated to hardware space—paint, tools, and the usual supplies. It also has 5,000 square feet of outdoor space dedicated to lawn and garden and a propane refill station.
Though the new store is much smaller than the existing store but more typical of "Core" format of the Ace stores. Clark tailored its offerings according to bestsellers in Ellicott City, with expanded space allocated to four niche areas—birds, outdoor power, grilling, and live goods (plants). "A bird super set for the biggest Ace stores is 16 feet and we have 32 feet. Plus, we are a smaller store for what a super set would go into." It is also the only Stihl dealer in Columbia—and offers a "phenomenal" (per Odetola) dog-washing station with 50 celebrity voice-overs that customers can choose from to talk them through the different steps. (Her favorite is Mike Tyson saying, "You're about to get soapy!") "We're a pet-friendly store and it's hilarious to listen to."
Continuing the Family Legacy
Although Clark says she wants her four children (ranging in age from three to 14) to work in hardware or other retail for the customer service experience, she is careful not to force them into following in her footsteps—just like her parents were prepared to sell if none of their five kids were interested.
"There's a lot of pressure to continue this business with so many generations behind it, and I would be lying if I said that wasn't there. I want my kids to feel genuinely passionate about doing it rather than feeling obligated."
Until then, her lifetime goal is to own three more hardware stores by buying two existing ones and then her "final piece" will be to buy the land, build the building, and lease it to herself. (She already has a location in mind.)
"I talked to my parents about how they didn't make money until they paid off the building and the land in Ellicott City, well into their seventies. It's not the monetary benefit for me but the challenge of it, and my children will reap the benefits."
When asked if she thinks she will achieve this goal, she doesn't miss a beat: "Oh I wrote it down, it's going to happen. The journey may not be as I expected it to be, but I will get there. That's how I feel when I set goals. This is going to happen and I'm just going along for the ride."