Co-op Innovation Awards
Innovative Ideas in Communities of Color Receive $170,000 in Grants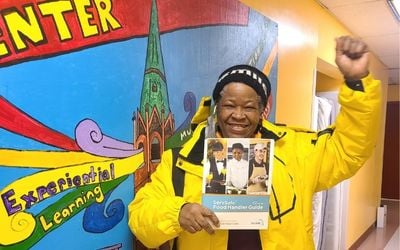 Five innovative ideas in five cities have received a combined $170,000 in early-stage grant funding from the 2022 Co-op Innovation Awards, which aim to increase cooperative development in communities of color and communities living with low incomes.

This year's awards, issued by National Cooperative Bank and Capital Impact Partners, are funding projects such as enabling Cambodian refugees to have permanent affordable housing; keeping a neighborhood safe so that families and businesses can thrive; creating an online marketplace for street food vendors; teaching skilled laborers how to become upholsterers; and helping a housing cooperative move toward sustainable growth.
This year, the award pool was expanded through the participation of additional sponsors Rochdale Capital, CUNA Mutual Group, Local Government Federal Credit Union, and National Co-op Grocers, helping augment the award opportunities by $50,000.
Northside Residents Redevelopment Council
Northside Residents Redevelopment Council is being awarded $50,000 to create a state-certified Community Safety Specialist apprenticeship program, formalizing and professionalizing a community-led patrol program that has existed in North Minneapolis for decades. These patrols aim to generate community wealth through cooperative ownership and by cultivating safe, supportive, and economically vibrant neighborhoods where families can thrive.


North American Students of Cooperation
North American Students of Cooperation (NASCO) is being awarded $35,000 to establish a group-equity cooperative for a 209-unit complex in Stockton, California, that primarily houses Cambodian refugees and their families. The complex is owned by the Asian Pacific Self-Development and Residential Association. This project will pilot a scalable model where the Chicago-based NASCO works with tenants' unions and residents of apartment buildings facing displacement and gentrification to provide training, and give them the tools to buy the properties and own them through the group-equity model.
The Industrial Commons
The Industrial Commons is being awarded $30,000 toward a project called Seat at the Table, which takes the need for skilled labor and turns it into a multi-layered business that trains workers to become upholsterers, one of the highest paid jobs in furniture. Seat at the Table's short-term goal is to create a training program in Morganton, North Carolina, where young people in the community can learn the skill of furniture production while fulfilling contracts for other local furniture companies. The long-term vision is to create a direct-to-consumer furniture manufacturing co-op whose member-owners will come from the training program.
Pilsen Housing Cooperative
Pilsen Housing Cooperative (PIHCO) is being awarded $30,000 to pay a temporary project manager to oversee fundraising efforts and the expansion to its third property, a "generator building" that will help make the co-op's ongoing growth sustainable. By buying the building via donations, rather than debt, PIHCO can then use the building to help fund subsequent acquisitions and supplement capital improvements across its portfolio.

Through PIHCO, owner families can secure affordable homes in a neighborhood that many consider to be the heart of Mexican Chicago. They earn equity and build wealth, build leadership skills, increase democratic participation in civic life, and take a pragmatic stand against displacement.
Beloved Community Incubator
Beloved Community Incubator is being awarded $25,000 to support the Vendors United Food Cooperative, a group of street food vendors in Washington, D.C. — many of whom have been persecuted by the police and locked out of the mainstream economy. The vendors are starting an online, cooperatively-owned marketplace to sell their food. Building on the success of its pilot program, Beloved Community Incubator will scale Vendors United Food Cooperative, help build the foundation of the cooperative, and strengthen their team, which will result in higher incomes and more democratic control.

Participants in the program receive ongoing technical assistance from a team of cooperative business advisors. With the Co-op Innovation Award funds, Cooperation Humboldt will launch its Cooperative Business Equity Program.
The program was developed collaboratively with community colleges, local Indigenous tribes, immigrant communities, and Community Development Financial Institutions. It will train cooperative business advisors from rural, Black, Indigenous, and People of Color (BIPOC) communities living with low incomes, including the Wiyok and Yurok tribes.
In addition, the program will include supportive services like childcare subsidies, remedial education, trauma-informed support, remote community access, and direct capital infusion that will mitigate barriers to worker ownership.