From Landlord to Retail Operator: Opening an Ace in Hesperia, California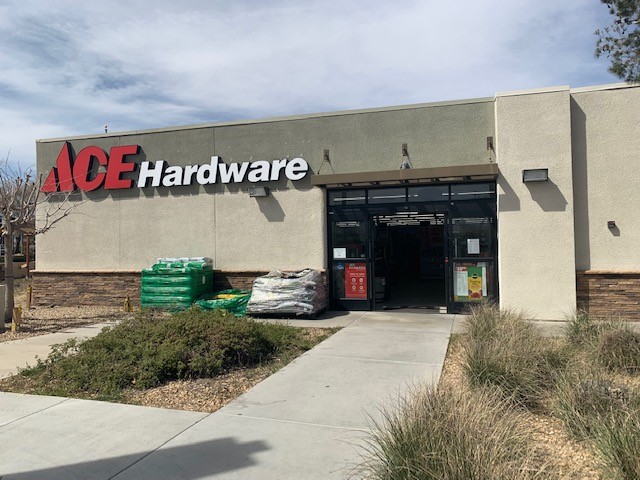 When the husband-and-wife owners of a commercial building had to find a new tenant, they decided to open an Ace Hardware Store themselves, with help from National Cooperative Bank (NCB).
Not that Ravinder and Jacqueline Singh (operating as Asbury Cottages LLC) envisioned such a pivot when they purchased the property in 2018 and secured a lucrative lease with Dollar General through 2023. In the intervening years, once-rural Hesperia — located in San Bernardino County and surrounded by the Mojave Desert — had grown in population to just shy of 100,000. Young families were especially drawn there by the affordable housing and mild climate. That new demographic no longer fit the discount store's rural model and so it terminated the lease in 2021.
"At that point, we were struggling with what to do next, including selling the building," says Ravinder Singh, speaking on behalf of the couple. "But it's a beautiful location on the corner of Main Street and very well laid out, with 9,200 square feet of retail space. Part of me is thinking we could start our own business."
Soon thereafter he had to make three trips to the nearest Home Depot, seven miles away in the next town over, to obtain some materials to buttress the vacant building. Why not bring a hardware store to Hesperia? Turns out there had been an Outdoor Supply Hardware (OSH) store one block from the Singh's building that had been purchased and subsequently closed by Lowe's some two years ago. That discovery boded well. What's more, he had been spending over $100,000 every year at Home Depot in maintaining his portfolio of properties. "I was well aware of the business from the consumer point of view."
The couple landed on Ace Hardware because of its independent owner-operated cooperative model and support. In turn, an Ace representative referred them to NCB for the necessary financing.
"We have a long and positive history of lending to Ace retailers", says Sylvia Bettencourt, NCB Vice President, and West Coast Business Development Officer.
NCB provided the Singhs with two loans: a $440,000 term loan for the retail store and a $1.3 million commercial loan for the building. The proceeds for the term loan were used to acquire inventory and provide working capital and closing costs whereas the commercial loan was needed to refinance the existing mortgage, which had been held by another financial institution that had more stringent requirements for owner-occupied buildings.
The Singhs used the termination deal with Dollar General to raise some of the equity needed for the term loan (most lenders look for a 20 to 30 percent stake) and then the incentives from Ace bridged the remaining equity gap.
"The nice thing about Ace is that it works with our borrowers in not only preparing projections and offering training but also in providing them with incentives, which consist of inventory for their stores," Bettencourt says.
Although this will be the couple's first time operating a hardware store, the Singhs have over fifteen years of experience in building construction and property management and owned a retail digital print business for ten years in Santa Monica. "So the couple is bringing transferrable skills to the new venture," Bettencourt says.
The location also promised success, being on a prominent corner lot in a busy retail corridor — and the marketing analysis by Ace showed evidence of a strong customer base.
Certainly opening a business during the pandemic was challenging. They were forced to push the opening from August to October 2021 due to supply chain issues, though at least it was in time for prime holiday shopping season. And the business has been bustling ever since. According to Singh, "The pro forma by Ace was around $110,000 per month and $1.275 million yearly. The way we are going we will be close to $2 million. We got into the right business at the right time."
Given this success, the couple is open to the idea of launching another Ace Hardware store but want to devote at least two years to establishing the Hesperia location. For example, they are putting some of the unplanned cash flow towards turning the corner side yard into the store's lawn and garden section, expanding the visibility and footprint.
Plus the store has brought much-needed jobs to the community — it currently employs twelve people, three of whom had experience working at the former OSH store and had been trained in a similar customer service philosophy.
"Being 'the helpful place' is how we distinguish our store from the competition. It's all about customer service," Singh says.
They found the same commitment to customer service in their transactions with NCB. "Sylvia went the extra mile to make both loans happen, and during the difficult time of COVID. Now we are the proud owners of an Ace Hardware store!"