Benedictine Sisters of Boerne and NCB find common ground in serving the community.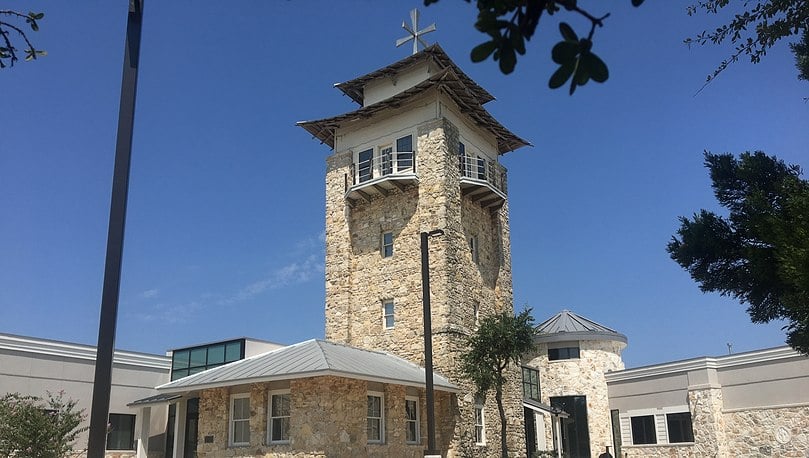 Even a religious organization as steeped in tradition as the Benedictine Sisters of Boerne, Texas, recognizes the need for change when planning for the future.
So, when the sisters decided to sell a portion of their property and construct a new monastery and administrative offices, they issued a Request for Proposal to solicit bids to finance the project. In August 2014, they reviewed responses from several financial institutions.
"We made a decision to go with National Cooperative Bank," says the sisters' prioress, Sister Bernadine Reyes of the Order of St. Benedict. "We considered the mission of NCB and found it aligned with our vision."
With a $4.8 million loan from NCB, the Benedictine Sisters broke ground on April 11, 2015 for their new St. Scholastica Monastery, located in the Texas Hill Country just north of San Antonio. The monastery and administrative offices are being built on the sisters' grounds around the renowned Kronkosky Tower, an iconic rock structure that rises atop one of Boerne's highest hills.
The new 16,500 square-foot facility will provide public and semi-public prayer, meeting and work spaces as well as private living spaces for the sisters. Completion is expected by late summer of 2016.
"This construction will bring our sisters, who currently reside in different spaces on 'the hill' under one roof," Sr. Reyes says. "It will enhance our monastic life together and should positively impact our living costs. We also see it as making us more visible, especially to our Boerne ministries."
The project includes eco-friendly construction throughout the facilities. The new monastery will provide safe and adequate community and living spaces for the sisters, allowing them to age in place while continuing their commitment to community and prayer.
The Benedictine Sisters follow the Rule of Benedict, a monastic tradition which emphasizes the values of community, hospitality, common prayer, stability, stewardship, moderation, service and more. The sisters are currently involved in parish, pastoral, health care, peace and justice, jail, retreat and spirituality ministries.
The loan from NCB--will not only enhance the current community life of the sisters, but also optimize their current resources to better serve their future needs and those of their mission.