NCB helps an Ohio dairy take advantage of government programs to install solar power.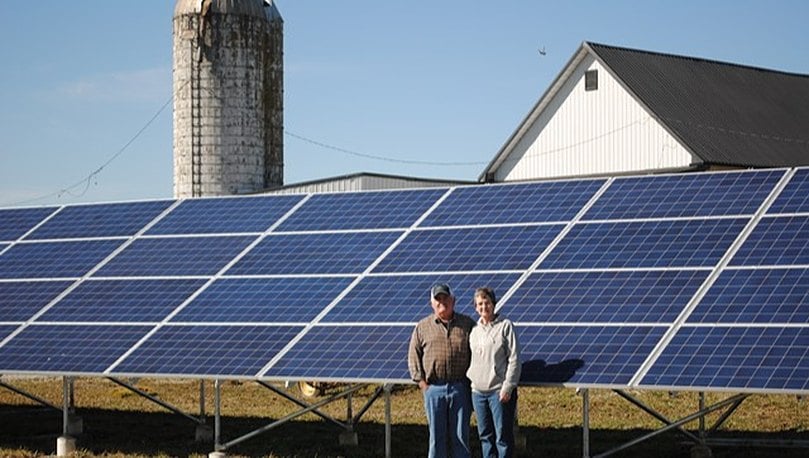 In 2015, Ohio dairy and grain producers Dean and Peggy Jolly saw an opportunity to use government grants and a 30-percent tax credit to install solar power on their farm.
But while banks were willing to finance their solar project, none was willing to take the additional step of applying on the Jollys' behalf for the "ReEnergize Ohio" program.
That economic development program offers up to a 3 percent interest-rate reduction for four years on new or existing small business loans when at least 50 percent of the loan proceeds are used to implement energy-efficient upgrades. Loan applicants, however, must work with identified participating banks to apply for the lower interest rate.
The Jollys decided to take a chance and see what might happen if they checked with National Cooperative Bank's (NCB) Hillsboro, Ohio branch, right in their own backyard.
"And we were shocked," Peggy Jolly says. "NCB was willing from the get-go to partner with us on the ReEnergize Ohio program."
NCB not only financed the Jollys' solar project but helped the long-time farming couple obtain ReEnergize Ohio's interest-rate reduction. That cut their interest rate by 2.1 percent for a final interest rate of 1.9 percent for four years.
Working with SunRock Solar LLC, the Jollys installed the solar panels near their dairy's milking parlor. The $100,000 renewable energy project generates electricity for their milking parlor and freestall barns and is expected to save $6,000 a year on energy costs. The couple also borrowed an additional $80,000 to expand their herd to 170 cows to increase the dairy's milk output.
"Because NCB was so willing to work with us, we have moved all our personal and farm accounts there," adds Peggy.