NCB Helps an Employee-Owned Grocer Refinance for the Future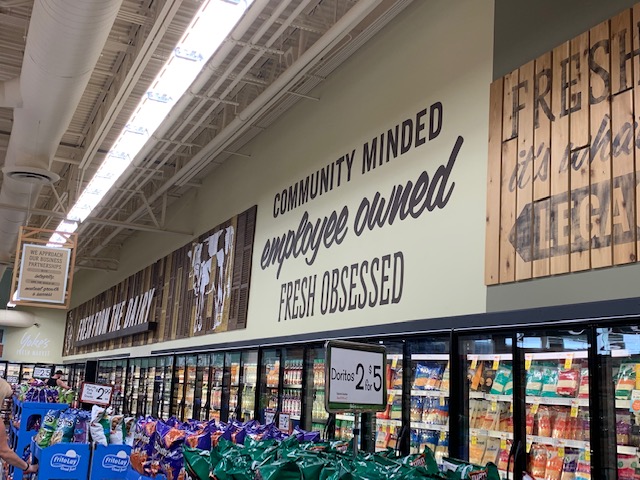 As a neighborhood grocery, Washington-based Yoke's Foods has built a solid reputation for keeping the focus on the customer—or "guest" according to the company's nomenclature—by creating a unique shopping experience. Namely, the mission is to deliver the freshest, high-quality products at a fair price to the communities it serves.
The regional grocery chain has come a long way since 1946, when Marshall and Harriet Yoke opened a 2,500 square-foot store in Deer Park, WA. Their son Chuck Yoke is widely credited with growing the family business into what it was when it first became employee-owned in 1990. (He still has a position on the board of directors.) Now there are 17 Yoke's Fresh Markets in Eastern Washington and Northern Idaho, known as the Inland Northwest.
In 2012 Yoke's became 100 percent employee-owned—and with about 1,550 active employee-owners (or "associates"), it ranks in the top 100 largest employee-owned businesses in the country.
"Because of our regional presence and relatively small size, we are more nimble than some of our national competitors, allowing us to work directly with local growers and distributors at times to offer more local products," says Lynn Tollison, Chief Financial Officer.
So when Yoke's was looking for a new banking partner that believed in its vision and shared the same goals, they turned to National Cooperative Bank (NCB).
Tollison says it was clear after a few visits from NCB representatives that "NCB was interested in being our bank now and into the future, and that was an important part of this whole transition."
Sylvia Bettencourt, NCB Vice President and West Coast Business Development Officer, was impressed with the independent grocer's extraordinary customer service and the cleanliness of its locations. "Because Yoke's is an ESOP (short for Employee Stock Ownership Plan), everyone there has a vested interest in the success of the business. A lot of associates have been there a long time and that loyalty to the name is telling."
In June 2020, NCB provided just over $10 million so the company could refinance existing debt. Plans for future borrowing include funding a few capital projects on the horizon, including replacing one Yoke's location and significantly remodeling others.
NCB will also be providing full-service cash management solutions aimed at helping Yoke's for the long haul.


Although the company is open to exploring new markets within its region, the main goal is to continue to foster its reputation and culture within existing neighborhoods.
"What I hear from people over and over and over again is that our associates are so much friendlier, happier, and more engaged than you find in other organizations like ours," Tollison says. "That truly is the success story."